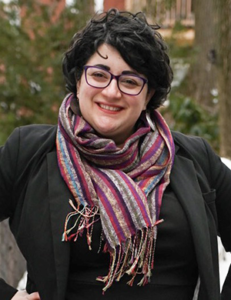 Adina Koch (she/her) leads Provide's Program Outreach and Engagement team to drive programmatic expansion and strategic partnerships.
Adina is a relationship-driven project leader dedicated to working for health equity and reproductive justice, in order to enable bodily autonomy for all, by making healthcare services accessible and comprehensive. Starting her career with the Eastern MA Abortion Fund, she most recently was a Quality Improvement Advisor for Upstream Massachusetts, working with Community Health Centers across the state on implementing comprehensive family planning services. She has previously worked as the Manager of the HIV and Sexual Health Department at Codman Square Health Center, and as the Manager of Community Health Programs at Martha Eliot Health Center. Adina also spent several years working with the Fenway Institute of Fenway Health as part of the Connect to Protect® Boston Coalition – a community-based research project that worked to examine the power of community mobilization and structural change as a means of HIV/STD prevention for Boston LGBTQ youth. She loves making change happen through systems analysis that is rooted in team collaboration and connection to lived experiences.
She holds a bachelor's degree in Sociology and Women's Studies from Northeastern University and a master's degree in Applied Sociology from Boston College. Adina lives in Boston where she also does work as a Postpartum Doula. When she is not working to make health care accessible for all or minding babies, you can find her walking around Jamaica Pond and cultivating community through hosting meals and baking cakes.