The first interaction with the health care system that most pregnant patients experience is the confirmation of pregnancy and the discussion that follows. This provides a unique opportunity to offer compassionate care and support services that mitigate pregnancy-related risk, overcome barriers, and help people reach their desired pregnancy outcomes.
Health care and social service providers play a critical role in coordinating the best care for pregnant people. Offering information and referrals for all pregnancy options (adoption, abortion, and parenting) without assumption or judgment is an evidence-based best practice that every provider should prioritize.
Prior research has indicated that racial biases are reflected in the content and quality of information that pregnant clients receive and have been shown to impact provider perceptions, assumptions, and care recommendations.[1] Our research confirms this. Provide conducted a research study at randomly selected, publicly-funded family planning clinics in the South. Hundreds of clients who received a positive pregnancy test were surveyed about their counseling experience. Our Client Experience Study found substantive racial disparities in pregnancy options counseling and referral—more than half of Black clients did not receive information about adoption or abortion.
When pregnant people don't receive information about all their options, they face damaging consequences. The Turnaway Study found that being denied a wanted abortion results in worse health outcomes, more violence from the person involved in the pregnancy, and more economic insecurity over time.
People of color experience less satisfaction with health care, leading to lower levels of trust in the health care system[2] and reinforcing lower health care usage.[3] This is especially problematic for pregnant people, where follow-up care is essential. Institutionalized racism and compounding systemic barriers contribute to a staggering Black maternal mortality rate and greater disparities in health outcomes for Black communities.
What can you do right now to help eliminate racial disparities in pregnancy counseling and referrals?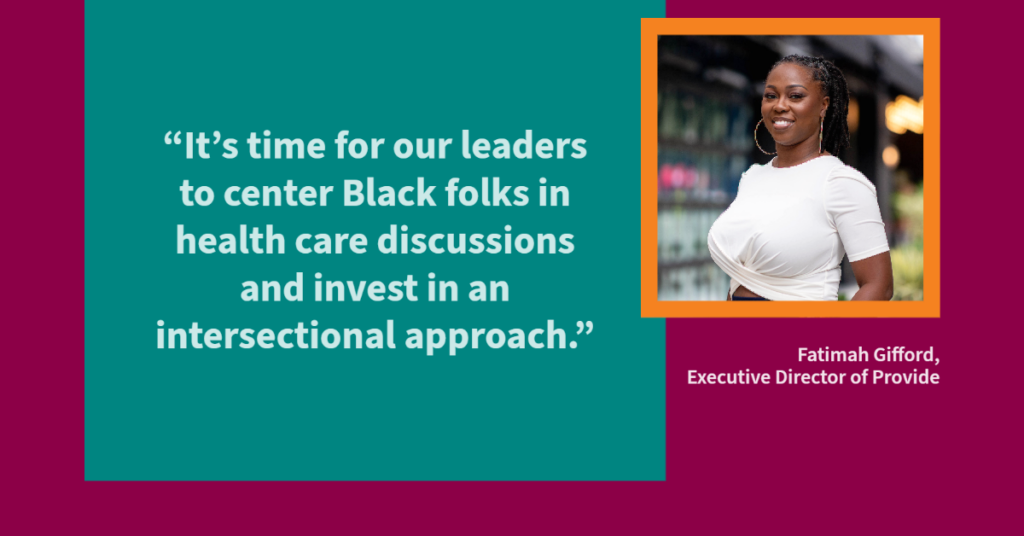 Discuss all pregnancy options (parenting, adoption, and abortion) in a neutral, nonjudgmental way, respecting your clients' preferences, needs, and values. Making assumptions about what clients want to be offered creates disparities in care.
Fight abortion stigma by being the first to name it as an option. This empowers clients to express their true preference and take charge of their health care.
Attend our new webinar, Supporting Black Clients Seeking Pregnancy Referrals, to learn more about the challenges Black clients face when seeking care for unintended pregnancy.
Invest in an intersectional approach to reproductive freedom. Read our op-ed in Truthout: Black Patients Are Regularly Denied Comprehensive Info About Pregnancy Options.
Abortion is more than a procedure—it's linked to freedom, economic security, affordable childcare, and gender equality. Access to abortion is a racial justice issue.
---
[1] Chapman EN, Kaatz A, Carnes M. Physicians and implicit bias: how doctors may unwittingly perpetuate health care disparities. J Gen Intern Med. Nov 2013;28(11):1504-10. doi:10.1007/s11606-013-2441-1
[2] Alhusen JL, Bower KM, Epstein E, Sharps P. Racial Discrimination and Adverse Birth Outcomes: An Integrative Review. J Midwifery Womens Health. Nov 2016;61(6):707-720. doi:10.1111/jmwh.12490
[3] Davis DA. Obstetric Racism: The Racial Politics of Pregnancy, Labor, and Birthing. Med Anthropol. 10 2019;38(7):560-573. doi:10.1080/01459740.2018.1549389