Providing affirming and supportive abortion care that recognizes and respects diverse identities and relationships is crucial for the well-being and autonomy of LGBTQ+ people.
Abortion rights and LGBTQ+ rights are connected through the broader framework of reproductive justice and the fight for bodily autonomy. Both issues involve the fundamental right to make decisions about one's own body and personal identity, free from interference or discrimination. This includes recognizing the importance of addressing systemic inequalities and barriers that disproportionately impact marginalized communities.
Provide's role in advancing reproductive justice includes naming and advocating for the rights of those who are most impacted by abortion restrictions and anti-LGBTQ bills—Black, Indigenous, , and other people of color; lesbian, gay, bisexual, trans, and non-binary people; immigrants; young people; people with lower incomes; and people in rural communities. Attacks on abortion rights and queer rights align with fascist ideologies that aim to suppress individual autonomy, promote traditional gender roles and social hierarchy, demonize marginalized groups, restrict civil liberties, and advance exclusionary policies.
Abortion rights and queer rights are and have always been connected in the legal arena. The timeline below shows the history of important Supreme Court decisions granting or infringing on autonomy:
(1965) Griswold v. Connecticut declared marital privacy a constitutional right and allowed married couples to buy birth control without government interference.
(1973) Roe v. Wade legalized abortion nationwide (but didn't guarantee abortion would be accessible).
(1986) Bowers v. Hardwick upheld anti-sodomy laws, maintaining the status quo of criminalizing queer sex.
(1993) Planned Parenthood v. Casey established the right of states to regulate abortion without imposing 'undue burden.' But who decides what's undue? States have been testing the limits of this since.
(2003) Lawrence v. Texas overturned Bowers v. Hardwick, a victory for queer people and all supporters of bodily autonomy.
(2015) Obergefell v. Hodges legalized same-sex marriage, another win for autonomy (but still the floor for queer rights).
(2022) Dobbs v. JWHO overturned Roe v. Wade and Planned Parenthood v. Casey, allowing states to ban and criminalize abortion. The decision namechecked Griswold, Lawrence, and Obergefell under the premise that privacy is not explicitly named in the Constitution and therefore is not guaranteed under U.S. law, contradicting the right to privacy decisions that granted the right to equal marriage and access to contraception.
On the surface, these cases may seem like separate issues, but ultimately everyone is impacted by these decisions because all issues of bodily autonomy are connected.
Legislative Attacks on Abortion, Queer and Trans People
Nearly one year after Dobbs, we are seeing its impact on abortion rights across the country. 14 states have banned most abortions, and restrictions are being fought in the courts in several states. The highest concentration of states where abortion care is the most restricted or banned is in the South and Midwest. Even before Dobbs, these states already had heavy restrictions that made abortion accessible for some, but not for many. Undue burden imposed on people seeking abortion care—gestational limits, mandated counseling or waiting periods, parental notification for minors—is now amplified as a result of Dobbs.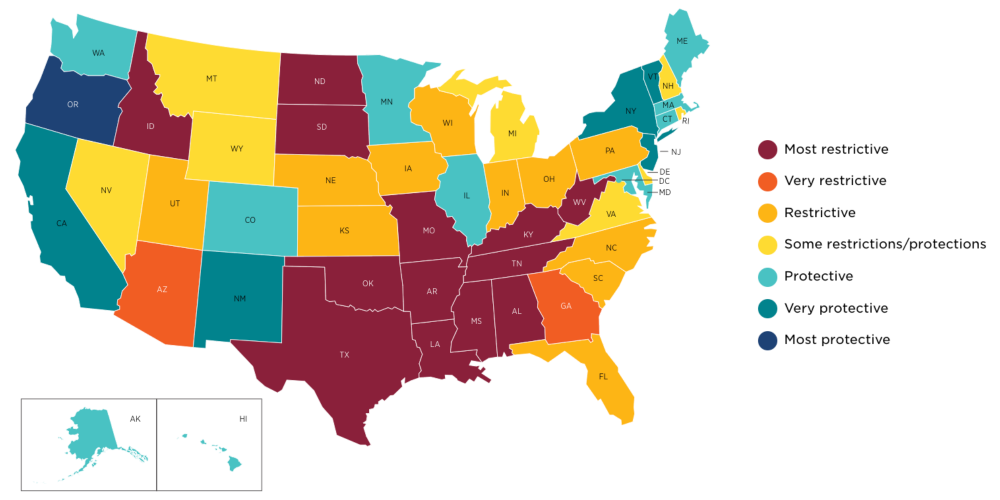 The ACLU is currently tracking the number of anti-LGBTQ bills introduced by state legislators who don't believe in people's right to make their own decisions about their lives. Since January, the number of anti-LGBTQ bills has increased 71%, from 287 to 491. While not all these bills will become law, they all cause harm for LGBTQ+ people.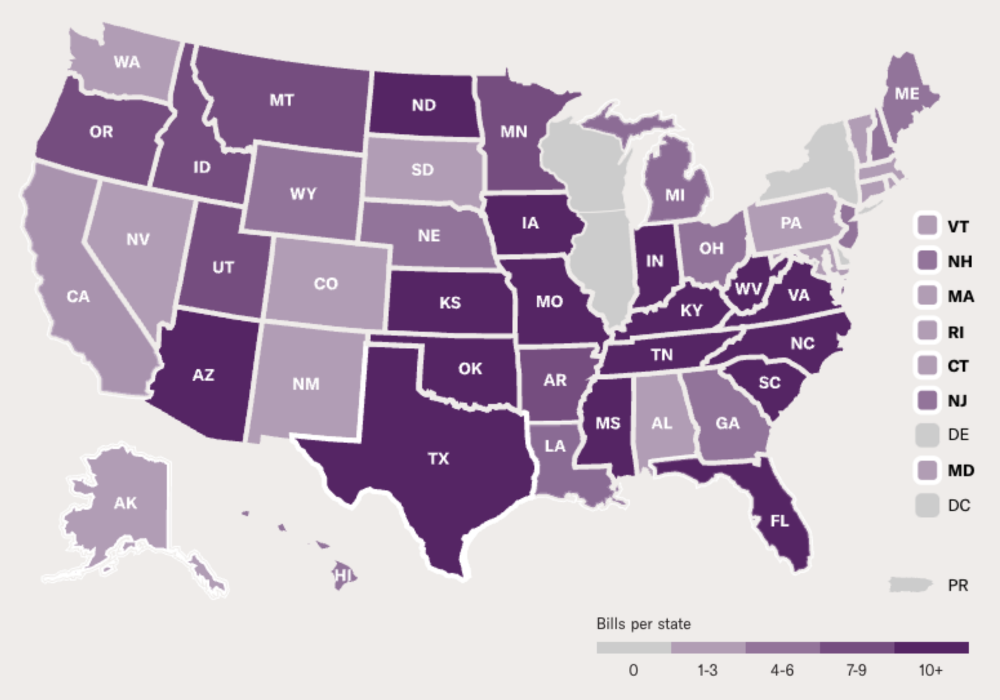 A comparison of these maps reveals a significant overlap between states that have or plan to ban/restrict abortion and states that are moving to restrict the rights of queer and trans people, often seeking to forcibly detransition trans youth and, in some cases, adults. Efforts to restrict abortion and trans rights are being introduced at a relentless pace. On May 17, Texas lawmakers approved a bill banning hormone and puberty blocking treatments, as well as surgeries for trans youth. On the same day, after signing a 6-week abortion ban a month prior, Florida Gov. Ron DeSantis signed bills that ban gender-affirming care for minors, target drag shows, restrict discussion of preferred pronouns in schools, and force people to use certain bathrooms. Two days later, Nebraska lawmakers voted to restrict gender-affirming care for people under the age of 19 and ban abortion after 12 weeks.
LGBTQ+ People Have Abortions Too
Abortion access is important for all people who can get pregnant, including queer, trans, and nonbinary people. In fact, unintended pregnancy rates are among queer, transmasculine, and non-binary people, and bisexual women are three times more likely to have abortions than heterosexual women. There are many reasons for these disparities, including statistically earlier initiation of partnered intercourse, contraceptive failures, statistically greater incidence of rape, lack of access to reproductive healthcare, limited education on sexual and reproductive health, misunderstanding of how hormone replacement therapy impacts ovulation and capacity for pregnancy, higher poverty and uninsured rates, and societal pressures to conform to heterosexual norms.
When pregnancy and abortion care are heavily feminized, we create barriers, bias, and discrimination toward queer and transgender people, which makes accessing care more challenging. This often results in inadequate or hostile treatment such as refusal of care, judgment, misgendering, and discrimination based on sexual orientation or gender identity. Barriers are particularly pronounced when seeking abortion care, especially for queer people who belong to other marginalized communities. In part for these reasons, gender-expansive people are three times more likely to prefer self-managed medication abortion (SMA) over in-clinic abortion because they see it as the least invasive and most private method.
Key steps you can take to ensure affirming, quality care for LGBTQ+ people seeking abortion include:
Receiving comprehensive education and training on LGBTQ+ health issues, including the specific needs and experiences of those seeking abortion.
Establishing inclusive policies and practices within your healthcare facilities. This includes adopting non-discrimination policies that explicitly protect LGBTQ+ patients, ensuring that intake forms and medical records are gender inclusive, and developing protocols to address potential bias or discrimination.
Creating a safe and welcoming environment by displaying inclusive signage, training staff on appropriate language and behaviors, and ensuring that waiting areas and restrooms are inclusive and affirming.
Respecting and using people's affirmed gender identity and pronouns throughout the care process. Using the correct name and pronouns not only demonstrates respect but also contributes to a positive and inclusive patient-provider relationship.
Offering LGBTQ+ affirming counseling and support services. Providers should be knowledgeable about the unique experiences and challenges faced by queer and trans people seeking abortion, including the potential impact on mental health and the importance of affirming decision-making processes.
Establishing networks and partnerships with LGBTQ+ competent providers and organizations to ensure seamless referrals for specialized care, if needed.
Regularly evaluating and improving services through patient feedback and engagement. Providers should actively seek input from LGBTQ+ patients to identify areas for improvement and implement changes accordingly.
Engaging in advocacy efforts to support the rights and well-being of LGBTQ+ people seeking abortion. This can involve advocating for policy changes, participating in professional organizations that promote inclusivity, and supporting community initiatives that advance LGBTQ+ rights.
By implementing these measures, providers can create an environment that respects and supports the diverse needs and identities of LGBTQ+ people seeking abortion, ensuring they receive affirming, quality care that honors their autonomy, dignity, and worth.
Resources for LGBTQ+ People Seeking Abortion Care
Find Abortion Providers and Abortion Support Resources
INeedAnA: A search engine that allows you to look for support around funding, gas money, wage replacement, food assistance, transportation, lodging, childcare, emotional support, and judicial bypass for young people.
AbortionFinder: Features the most comprehensive directory of trusted and verified abortion service providers in the U.S. Created to provide clear, up-to-date information about the availability of abortion care across the country.
Get Abortion Support
Get Legal Support for Self-Managed Abortion
If/When/How's Repro Legal Helpline: A free, confidential source that has information about the law and self-managed abortion and connects pregnant people to lawyers if they have been investigated or arrested for having an abortion or think they may be.
Find Queer and Trans Affirming Information
---