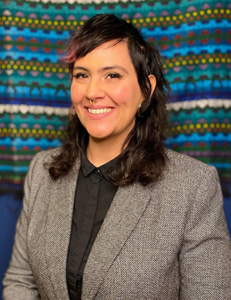 Ondine Quinn (she/her or they/them) oversees the creation, execution and implementation of new programmatic content, pilot programming, and technical assistance strategies.
Ondine is a queer Latinx intersectional-feminist, artist, and rabble-rouser whose commitment to social justice was formed at an early age, in large part thanks to her mother. She's an experienced community organizer and has coordinated campaigns to restore voting rights to people with felonies, to increase access to gender neutral restrooms for non-binary people, and to promote a sustainable economic transition from coal in Appalachia. Ondine also has direct service experience working at an HIV/AIDS service organization where she served as a case manager and HIV tester. In her various professional roles, she's led work around grant writing and fundraising, leadership development, workshop and curriculum development, strategic planning, volunteer management, crisis counseling, and lobbying.
Ondine earned a Bachelor of Arts degree in Political Science and International Studies from Ohio State University, a Master's of Social Work from the University of Kentucky and completed the Sexual Health Certificate Program through the University of Michigan's School of Social Work. She is a Certified Sexuality Educator through the American Association of Sexuality Educators, Counselors and Therapists. She is a proud member of Alpha Psi Lambda, the nation's first coed Latinx fraternity, and is a member of the National Association of Social Workers.