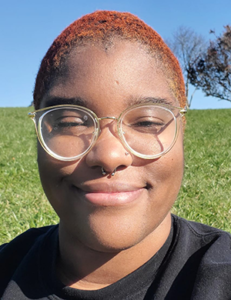 Danielle Hurd (they/them) is a southerner, a queer Black Feminist, and a Reproductive Justice advocate with a decade of experience in youth organizing and reproductive health/rights/justice training, education & management. As a young organizer, Danielle worked on issues of racial justice, reproductive and gender equity, and LGBTQ+ liberation. This experience was deeply impactful and their work since has focused on youth leadership, program implementation and development, research, and education.
An ardent spokesperson for reproductive justice advocacy, Danielle has been quoted or published in: The Advocate, Essence, Re. Wire and other outlets. Danielle holds a BA in Interdisciplinary Studies (Race, Gender, and Sexuality Studies) and an MA in Women's and Gender Studies from the University of Alabama. They are also a graduate of the Midwest Academy and Black Feminist Organizing school.
Danielle was born and raised in Birmingham, Alabama, and uses they/them pronouns. They currently live in Washington, DC with their spouse, Gaby, and their precious, anxious dog, Jalapeno Gregg.