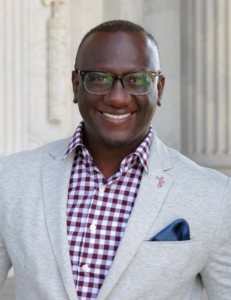 Jamarr Brown (he/him), Director of Electoral Programs at re:power, is an accomplished political strategist, healthcare advocate, organizer and leadership trainer with over a decade of professional experience. He most recently served as the National Training Director for Tom Steyer, where he led a national leadership development program for staff, volunteers, community leaders and issue advocates.
For five years, Jamarr served as the Organizing & Training Director for Planned Parenthood Texas Votes (PPTV). In that role, Jamarr managed the statewide leadership development, public affairs, grassroots organizing and issue and electoral campaign work. Under his leadership, the number of Planned Parenthood supporters in Texas grew by 600,000 and the organizing team trained over 3,000 activists to advocate for the full spectrum of reproductive rights and services.
Prior to PPTV, his experience includes working with Progressive Majority, Young Democrats of America, Wellstone Action, the National Democratic Training Committee and working on several local, state and federal campaigns across the country. Jamarr also successfully worked with ColorOfChange to remove the Confederate Flag from South Carolina's State House grounds.
Raised in Charleston, South Carolina, Jamarr earned a Bachelors of Arts in Political Science from Clemson University. He has served on various boards and commissions, including the City of Austin Human Rights Commission, New Leaders Council Austin, Black Austin Democrats, Central Health Community Champions, Government Affairs Committee for the Greater Austin Black Chamber of Commerce and represents the Texas Young Democrats on the Young Democrats of America National Committee.